Extra Cheesy Korean Buldak Ramen (10 Minutes!)
This post may contain affiliate links. Please read my disclosure policy for details.
Creamy, spicy, cheesy! This recipe combines it all. Grab that cheese buldak ramen pack sitting in your pantry and turn it into the best lunch possible. Wurstel sausage and melted mozzarella cheese go perfectly with these instant noodles. Ready in 10 MINUTES!
What is buldak ramen?
Buldak bokkeum myeon are very popular instant noodles in Korea, they're known to be one of the spiciest ramyeon in Korea. The term buldak literally means fire chicken while bokkeum myeon means stir-fried noodles. These noodles have been all over social media featuring spicy noodle challenges and mukbang.
There are quite a lot of variations of these buldak noodles such as carbonara, curry, toppoki, jajjang, etc. But in this recipe, we are using the CHEESE BULDAK RAMEN (yellow pack) to make some creamy and extra cheesy noodles with mozzarella and wurstel sausage. FLAVORS GUARANTEED and ready in 10 MINUTES!
This is one of my go-to lunch when I'm at home. Ok, instant noodles aren't the healthiest meal of all, so I usually have it twice a week at most. I like to alternate between some of my recipes such as my Carbonara Buldak Ramen (super creamy!) or my Buldak Ramen Bibim Guksu Style (my fav in summer).
Where can I buy buldak ramen?
You will find them at any Korean grocery store. Many Chinese grocery stores will also sell them in their instant noodles aisle.
NO KOREAN GROCERY STORE AROUND YOU?
Here are some online Korean grocery stores you can purchase from:
You can also find them ONLINE on Amazon. Lucky nowadays Amazon sells pretty much everything including the essential Korean ingredients to do everyday Korean cooking. Check out my Korean pantry here.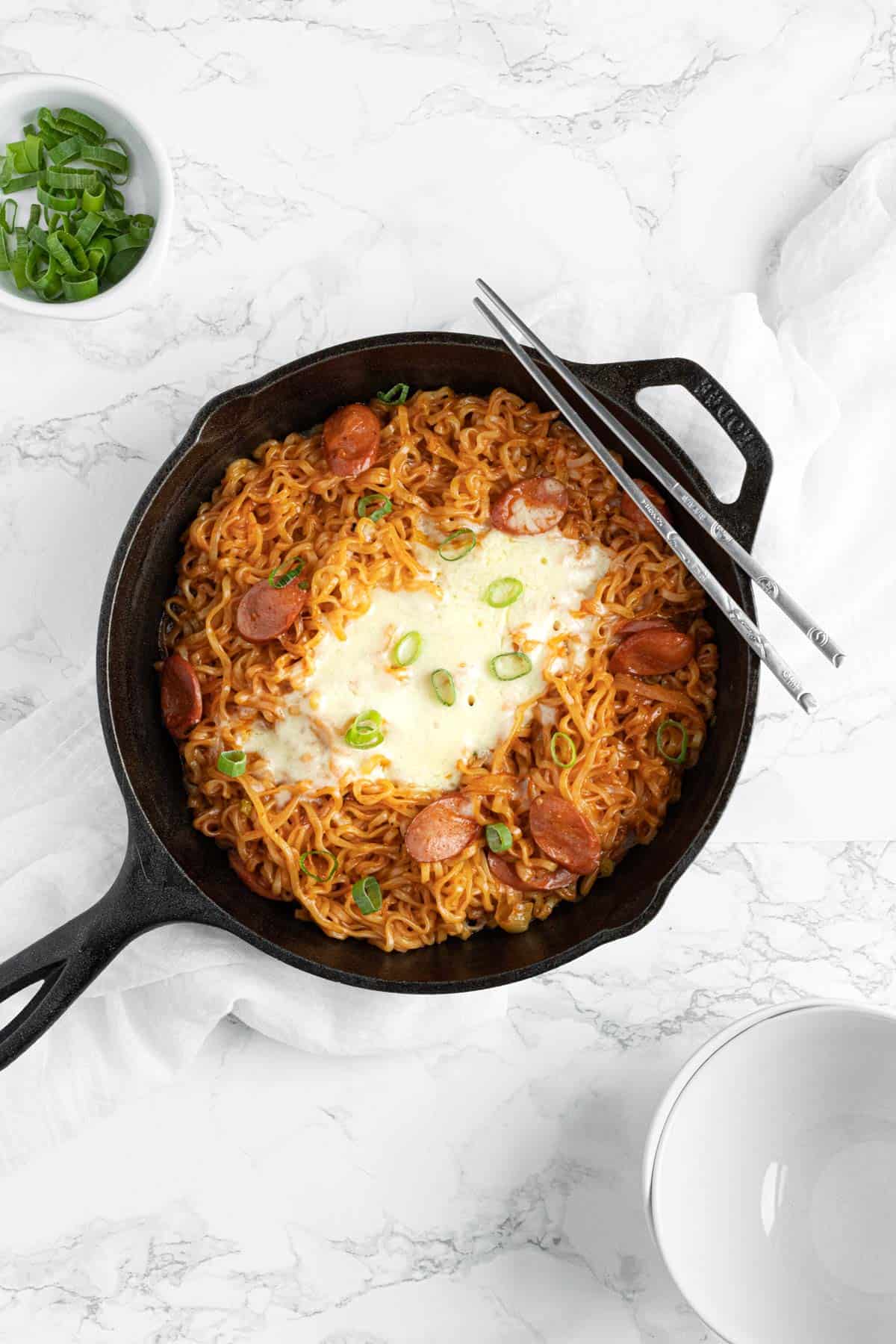 Which ingredients do I need to make some extra cheesy buldak ramen?
onion – slice a small onion
green onion – chop some green onions, I like to cook the white part and keep the green part for garnish
wurstel sausage – this is my favorite sausage to have with instant noodles. Of course, you can substitute it with any sausage or meat you like.
2 packs buldak ramen – this recipe caters to 2 persons. Use the cheese buldak ramen (yellow pack)
full cream – adding cream will not only make your ramen super creamy, it will also dilute the spiciness of these buldak noodles.
1 spicy sauce packet – for 2 portions, I used 1 packet of spicy sauce only but for those who enjoy extreme spiciness, feel free to add the second packet.
2 seasoning powder packets – mix the seasoning with the cream and the spicy sauce.
mozzarella cheese – add a handful of shredded mozzarella cheese on top of your noodles, cover your pan with a lid and cook for a few minutes just the time that the mozzarella melts.
water – add 2 tbsp water around your noodles before steaming the mozzarella so that the bottom of your pan doesn't burn.
cooking oil
More buldak noodles recipes?
RECIPES IN YOUR INBOX? Don't forget to subscribe to my newsletter to receive the latest recipe updates delivered for free directly to your inbox! Oh, and you will also find me on Youtube, Instagram, Facebook and TikTok. Come say hi and leave me a message, it is always a pleasure to connect with all of you!
Thanks so much for stopping by! xx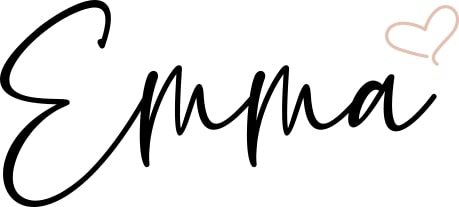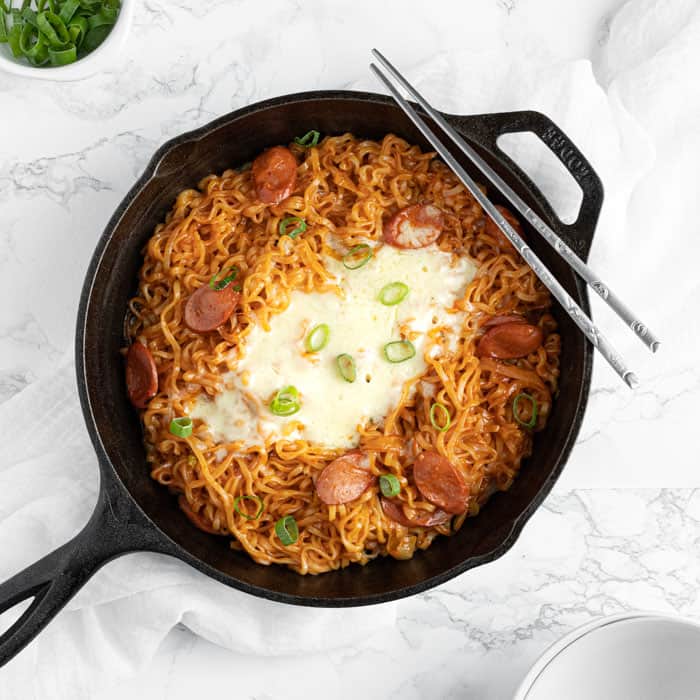 Extra Cheese Korean Buldak Ramen
Creamy, spicy, cheesy! This recipe combines it all. Grab that cheese buldak ramen pack sitting in your pantry and turn it into the best lunch possible. Wurstel sausage and melted mozzarella cheese go perfectly with these instant noodles. Ready in 10 MINUTES!
Print
Pin
Rate
Calories per serving:
333
kcal
Ingredients
1

small onion

, sliced

1

green onion

, chopped (or 2 small green onions)

1

wurstel sausage

, sliced

125

ml

cream

1

spicy sauce packet

2

seasoning powder packets

60

g

mozzarella cheese

, shredded

2

tbsp

water

cooking oil
Instructions
Chop onion, green onion and sausage.

In the meantime, boil some water. Once the water is boiling, cook the ramen for 4 minutes – I like to cook them one minute less than recommended (5 minutes as per package) just because the ramen will keep on cooking once we steam the mozzarella.

Prepare the sauce. In a pan, add cooking oil and cook the onion on medium-high heat for 1 minute.

Add the white part of the green onion and the sausage. Cook for 1 more minute.

Pour the cream and stir in the spicy sauce and the two packets of seasoning powder (Note 1). I use 1 packet of spicy sauce for 2 servings of ramen, but if you like your ramen extremely spicy you can add more of the second packet of spicy sauce.

Stir well to integrate the powder and spicy sauce with the cream.

Turn off the heat. Toss the ramen into the sauce and coat them well with all of the sauce.

Place mozzarella on top of the ramen, in the centre of your pan. Pour 2 tbsp water around the edges of your pan so that the ramen don't burn at the bottom of the pan while the cheese is melting. Cover your pan with a lid. Turn the heat back on (medium heat) and cook until the mozzarella is completely melted (around 2 minutes).

Sprinkle the green part of the green onions. Serve.
Notes
If you like your ramen spicier, add the second packet of sauce (if you're making one pack of ramen only, add the entire packet of sauce instead of half the quantity). On the contrary, if you like your ramen less spicy, decrease the amount of spicy sauce you're adding.
Nutrition
Calories:
333
kcal
Carbohydrates:
9
g
Protein:
9
g
Fat:
30
g
Saturated Fat:
19
g
Polyunsaturated Fat:
1
g
Monounsaturated Fat:
8
g
Cholesterol:
95
mg
Sodium:
233
mg
Potassium:
182
mg
Fiber:
1
g
Sugar:
5
g
Vitamin A:
1188
IU
Vitamin C:
6
mg
Calcium:
211
mg
Iron:
0.4
mg
Tried this recipe?
Take a pic and mention @thatcutedish on Instagram, I'd love to see all your creations! Don't forget to leave a rating and comment below : )